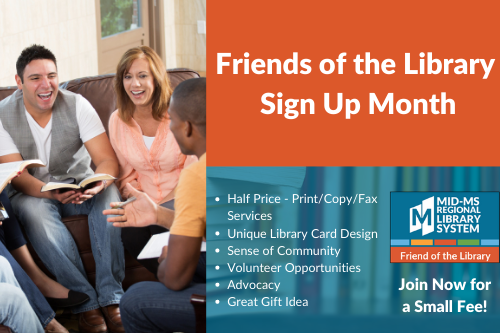 Friends of the Library Sign Up Month
We are happy to be introducing "Friends of the Library Sign Up Month" to all library guests throughout the month.
What is Friends of the Library and why should I join? Friends of the Library is a national organization of library supporters with local chapters throughout our state. Friends groups come together to support, improve, and promote their local library.
Starting this year, members will receive a unique library card which provides a special system wide benefit of half-price print/copy/fax services.
Friends groups help raise funds for special library programs, advocate for library services, volunteer for the children's summer reading program, sponsor National Library Week events, as well as performing other voluntary duties/activities. This low fee membership would also be an excellent holiday gift idea for the library enthusiast in your life.
Contacting your local library branch is your first step to finding out more information. You may also visit midmisslib.com/friends for further details.