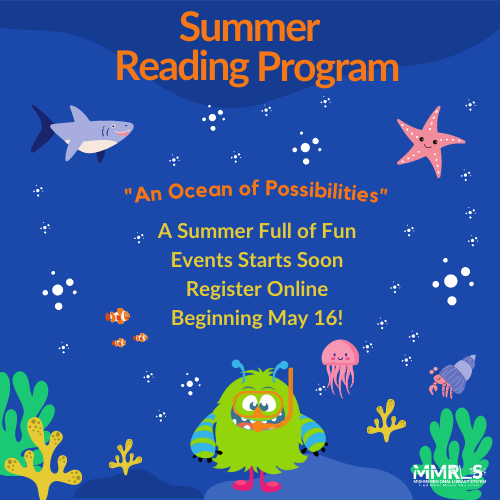 Summer Reading Program Registration Begins on May 16
Online registration for the 2022 Summer Reading Program starts May 16. In-person registration will begin at your local library soon!
You can register by visiting mmrls.beanstack.org; or downloading the Beanstack app (available on the Apple or Google App Stores), allowing you to easily log and track your reading while earning fun badges/prizes. If you registered using Beanstack previously, you can simply accept the new Summer Reading Challenge on the app to get started!
Traditional Summer Reading Program registration using a paper form at your local library will also be available; please visit or contact your local branch for details.
The Summer Reading Program will begin on different dates depending on your location. Please contact your local library, or follow them on Facebook, for a full schedule of in-person events. There will also be different reading challenges for children, teens, and adults.
Every child or teen under 18 who registers for the summer reading program in-person or online will be eligible to receive a free drawstring backpack at their local branch (while supplies last). The backpacks will feature the new MMRLS mascot, Zim!
This year's theme will be "An Ocean of Possibilities," so get ready for some fun focused on our friends from under the sea!